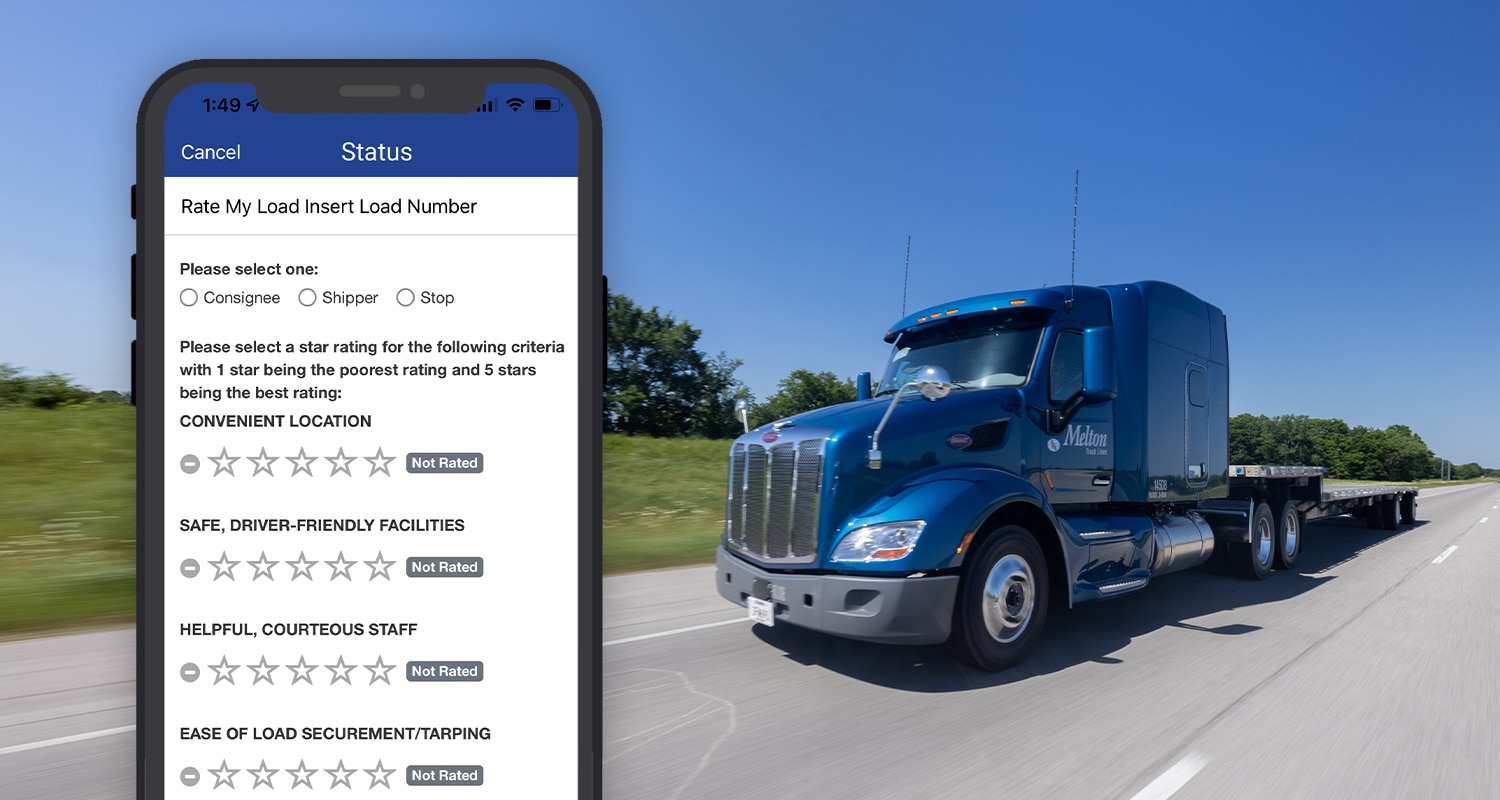 The Importance of Driver Feedback
Driver happiness is key to maintaining a low driver turnover rate and delivering quality service. Listening to driver feedback not only allows drivers to voice their opinions, but also allows carriers to better understand what is going on through a driver's point of view.
Melton recognizes that truck drivers have some of the toughest jobs out there, so we want to give them the opportunity to be heard by rolling out our Rate My Load app. This app allows drivers to give us feedback on their experience with the shippers and consignees for every load. Our sales and operations teams utilize this information to monitor performance relationships with our shippers.
Here's How it Works:
Drivers use this app to rate shippers and consignees based on the following 5 key standards that are important to driver satisfaction:
1.) Convenient Location: Was the location difficult to reach?
2.) Safe, Driver Friendly Facilities: Was it easy to maneuver truck/trailer in the space given?
3.) Helpful, Courteous Staff: Was assistance provided when needed?
4.) Ease of Load Securement/Tarping: Was the load dangerous to secure/tarp?
5.) Reasonable Loading/Unloading Time: Was loading/unloading done in a timely matter?
Listening to driver feedback enables us to recognize and prioritize allocating trucks to customers with the highest rankings. In this extremely tight flatbed and driver market, shippers that our drivers like and respect most will see more of our trucks.
Our goal is to satisfy our customers AND our drivers. Shippers who meet the 5 standards above are very much appreciated by Melton and our drivers.
How Does This Benefit Our Customers?
Our Rate My Load submissions are mostly overwhelmingly positive. Many shippers even use our positive feedback to encourage and celebrate their own employees. However, not all ratings are positive. Although, nobody wants to see a poor rating, these could benefit shippers by bringing forth potential weaknesses, that they may have not recognized before. After sharing location-specific comments, several customers have opted to make changes to their operations and facilities, making themselves more attractive to a carrier.