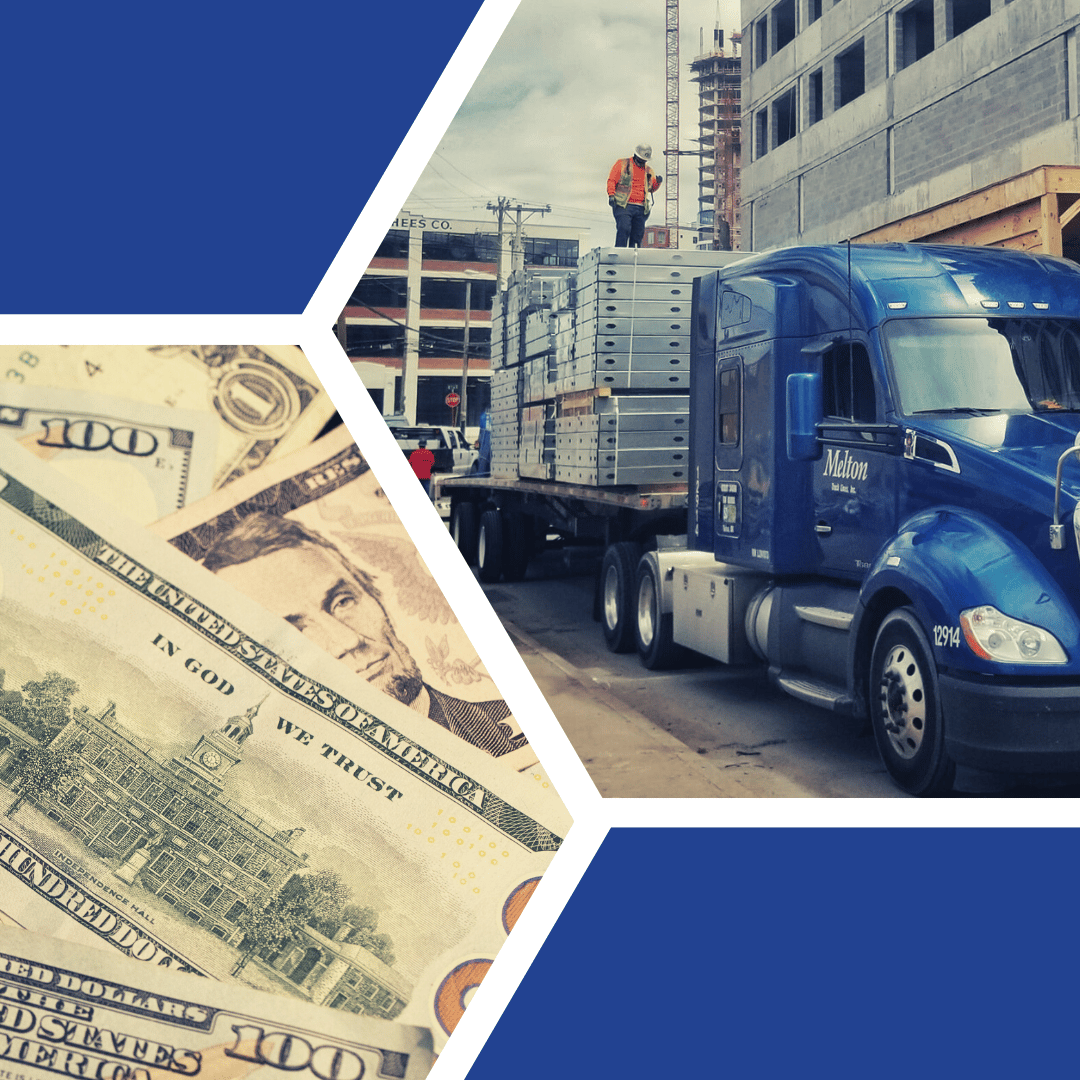 How Much Do Truck Drivers Make?
The number one thing people normally look for when searching for a place to work is the salary. A high salary doesn't automatically mean that a potential job is the best choice for you, but it's certainly a huge deciding factor. In the transportation industry, compensation varies widely from company to company. You could get paid by the mile, paid hourly, or receive a salary divided into paychecks. The amount of money will vary as well. According to salary.com, the average truck driver salary sits at about $57,000 per year, but the earning potential is huge. There's a lot of factors your pay depends on – driving experience, miles, bonuses, and more. Some top drivers in the industry can make over 6 figures!
If all of this seems overwhelming, you're not alone. The average driving candidate speaks to eight different companies before settling on one. While we can't figure out which company is definitively for you, we decided to make it easier by pulling some data from the top trucking companies in the industry and showing how Melton compares.
The first 3 charts present a comparison of base pay-per-mile for entry-level truck driving jobs, as well as base pay for drivers with 1 and 3 years of OTR experience.

PLEASE NOTE:
All figures were measured during a pay study conducted in 2022. Individual companies will be kept anonymous.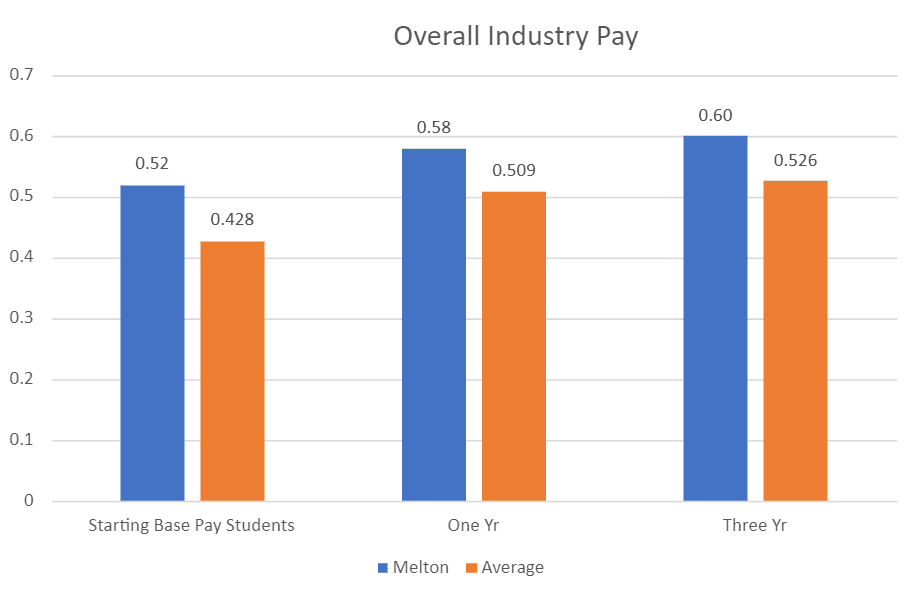 Do Truck Drivers Make Good Money?
As presented in the chart above, Melton is consistently above the overall industry average in our cent-per-mile (CPM) base pay offered to newer drivers with 0 – 3 years of experience. At Melton, new drivers with no experience can start earning $0.52 CPM as an entry-level driver and rise to $0.58 CPM within their first year of employment. If you already have OTR experience, your base pay will be even higher! Are you a veteran or former military? Military members could earn an additional $0.06 CPM on top of their base pay.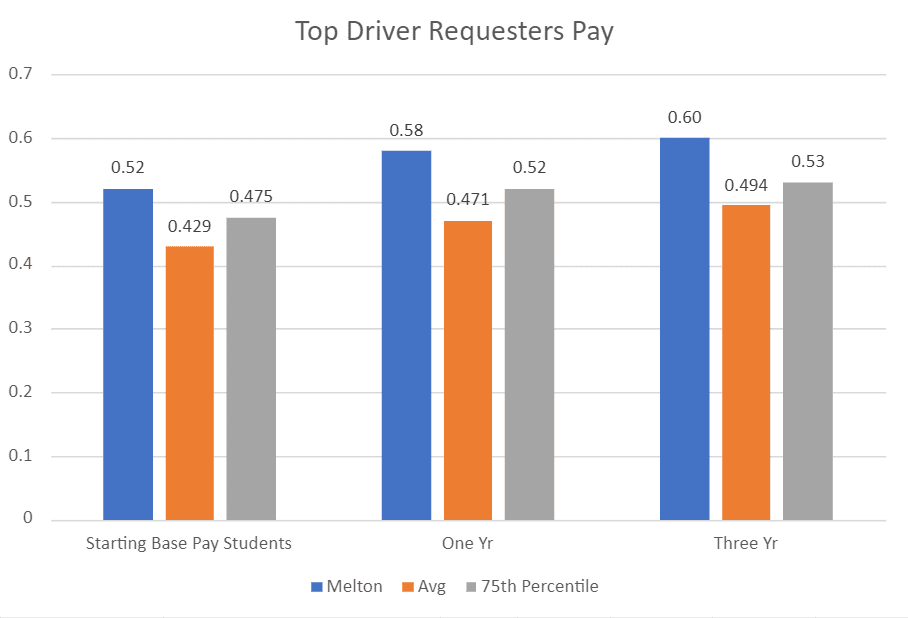 Which Company Pays New Drivers Most?
The trucking companies compared in the chart above are all in search of the industry's newest drivers. Again, Melton is far above average and is well above even the top 25% of trucking companies.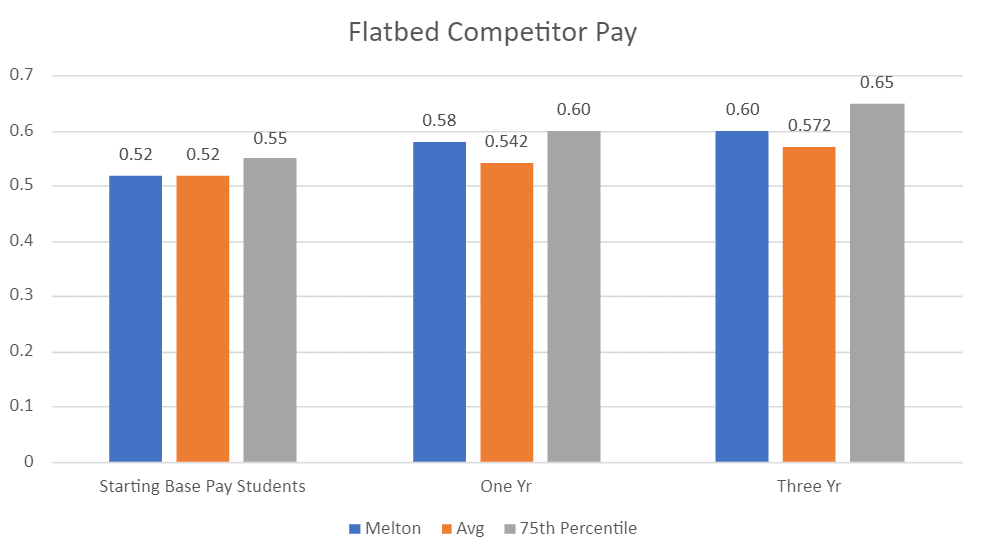 How Much do Flatbed Drivers Make?
This chart compares base pay for flatbed trucking companies only. Keep in mind, this does not include tarp pay. Although Melton is not the highest base pay in the flatbed industry, we are still in line with the average or slightly above average. Again, this is using Melton's minimum base pay for new drivers with no experience, so a driver with OTR experience who's new to Melton will see a pay scale higher than what is shown. Click here to see Melton's pay scale and additional pay opportunities!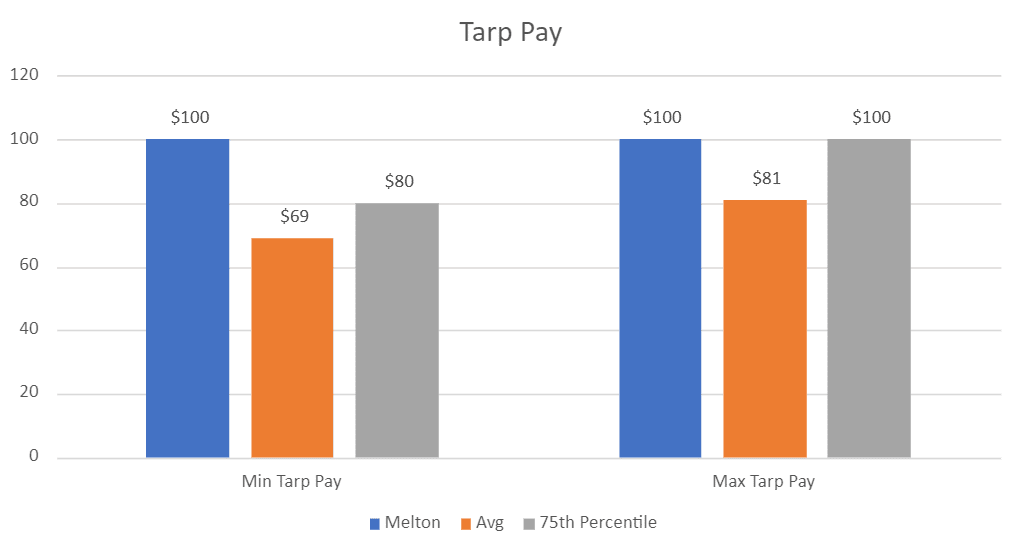 What is Tarp Pay?
Tarp pay is the additional pay drivers are compensated for tarping flatbed loads. Tarping flatbed loads is a physically demanding job and can be difficult depending on the size and shape of the load. That's not to mention any unfavorable weather conditions that need to be worked around. Melton recognizes that tarping is the most difficult part of a flatbed trucker's job and is leading the industry in paying drivers $100 per tarp job. This can add up to an additional $10,000 per year on top of base pay!

These numbers should provide a solid foundation for your company research when looking for a truck driving job. Many companies have opportunities that will raise your annual income, so it's best to research thoroughly to ensure you are choosing a company that suits your career goals. It'll be worth it!