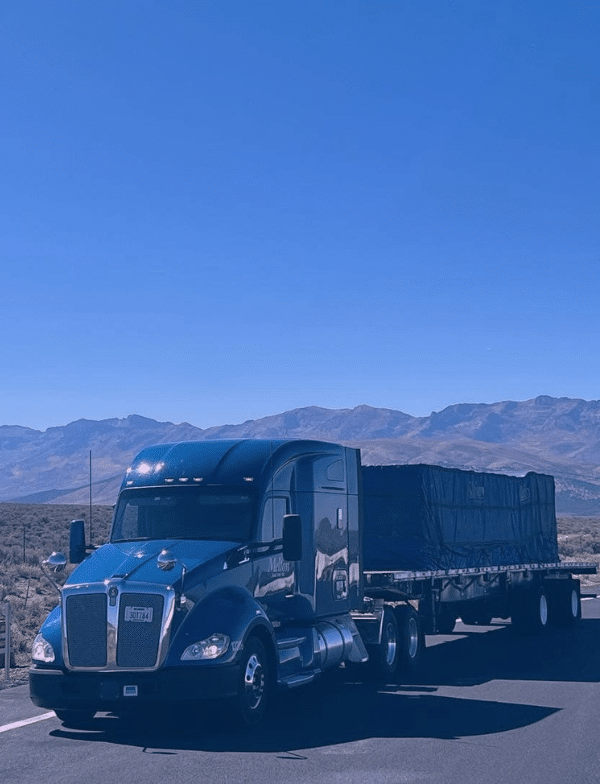 A Day in the Life of a Truck Driver
If you've considered truck driving as a career, you're probably curious what a typical day on the road is like. The lifestyle can be appealing to those who like working independently and don't mind working for long stretches of time, but there are plenty of challenges you'll stumble across on your journeys. Here's a quick summary of a typical day as a flatbed driver at Melton, along with some tips to keep in mind when planning your day. If you're looking to learn more about what you need to become a truck driver, be sure to read our flatbed trucking jobs page. Let's start from the top!
Waking Up – You'll be waking up at the tail end of your 10-hour break that began before you went to sleep. Get ready for your day and eat breakfast before break is up to avoid self-caused delays starting your day. Make sure to take care of yourself; self-care is important! Early bird gets the worm – and same goes for self-care. It will give you a fresh start to your day since your schedule could be delayed at the shipper or consignee.

Pre-Trip – Once you're given a load assignment, plan your route for the day with the hours you have from point A (your starting location) to point B (where you will shut down for the night). Set goals and plan ahead! While working, always have a timeline/schedule to follow based on your hours so you do not lose track of time. Always keep your ETA in mind. Make sure to be prepared with the proper equipment that your load requires. If you need more materials, communicate it to your DM and go get your materials needed to be prepared ahead of time. If this will cause a delay, make sure to let your DM know.
Loads – Time to get to work! Show up and check in on time to avoid any delays. Make sure to communicate anything you need to your manager right away, so they can work on getting it taken care of. Save time by having your straps, tarps, and other equipment prepared for load securement. This will help save your hours and get you a head start on the road. It's important to manage your time wisely to minimize any risk of delayed delivery. Make sure to have your paperwork and any other necessary items readily available before your departure.
Load Securement/Tarping – Proper load securement is crucial. Remember to always be cautious and use best practice when securing loads. If you are unsure about something or need help, contact the Safety Department for assistance.
Sometimes your equipment will get damaged. Make sure to actively repair any holes, tears, or damages that occur on your materials as soon as you can, to reduce the chance of it becoming worse or impractical. It's best practice to inspect your equipment daily to ensure you are prepared and properly equipped for your next loads. If damaged, repair with a temporary solution, so you're not stuck with damaged materials while we try to get you to a terminal to replace them.
Truck Maintenance – There will be times you will need to get repairs on your truck or trailer. Make sure to actively plan ahead by reaching out to your repair team and DM right away, to make sure you can get the repairs done quickly. This will help keep you moving and avoid unnecessary downtime by having to wait on a specific repair service to arrive. Also, make sure to take care of your routinely required services/maintenance as well. If not, this could cause inconvenient delays and cause more issues in the long run, resulting in more time wasted in the shop. Plan ahead and take care of it in your downtime at the truck stop.
Post-Trip – Ah, truck sweet truck. Now that you've ended your workday, it is necessary to look over your load/securement and plan your next day. Make sure to do your nightly routine and get some good sleep to prepare you for the next day. You've got 10 hours to do this before you're back on the road, so make the most of it! Don't forget to check that ETA, and we'll see you in the morning!
Trucking can be quite an adjustment if you're not prepared, but for those with a sense of adventure who like working independently, trucking could be just the career you've been searching for. If you want to take the next step, you can check out our blog about how to become a truck driver. Safe travels!
Check out some related blog posts!