truck driving jobs for recent grads
Limited Time Only:
The transition to a new career and lifestyle doesn't have to be a financial strain. Receive $2,500 Supplemental Pay regardless of your experience!
OTR Truck drivers in this field enjoy being able to see the country, being their own boss, and earning good money! Melton offers flatbed truck driving job opportunities for class a cdl drivers with no experience. Whether you're a recent cdl graduate looking for a truck driving job, or a truck driver with no OTR or flatbed experience, we have job opportunities for you! With our paid on-the-job flatbed training program, driver apprenticeships, pre-hire letters, and tuition reimbursement, we will ensure you have all the resources necessary to be successful in your flatbed OTR truck driving career.
Don't Have A CDL Yet?
Melton now offers an option of Fully Funded CDL Schooling to give students the opportunity to start a new career debt-free. This program is currently only open to residents of Oklahoma or Texas who in search of a truck driving job with no experience. If you live outside of these states, we encourage those seeking their Class A CDL license to visit the CVTA or NAPFTDS websites for accredited schools. Once you obtain your license, we can make your transition to a driver much easier with our Pre-Hire and Tuition Reimbursement Programs.
If you are interested in driving for Melton and do not have a CDL yet, call us today at 866-715-8563. Our Recruiters can provide details on our Fully Funded CDL Schooling program if you're a resident of Oklahoma or Texas, or assist with options for schooling outside of these states. You can also use our CDL Schools Finder for schools recommended by Melton. 
Melton is one of the best trucking companies for new drivers. We welcome recent CDL school graduates and drivers that have not had any over-the-road (OTR) driving experience. We know that you are the future of our company so we insist on providing quality training.
Tuition Reimbursement Program
CDL grads with less than 5 months of OTR experience could qualify for Melton's tuition reimbursement program. This program will pay $150 every month up to $10,000! If you paid less than $10,000 pursuing your CDL, the payout will stop at the amount paid. Once you are off your road trainer truck, your payments will begin to send on your hire date each month and will continue until fully paid. Melton also  doubled our tarp pay to $100 per load and offer $2,500 driver supplemental pay!
Pre-Hire Letters
If your CDL school or company financing your CDL program requires a pre-hire letter before you can attend their course, contact a Melton recruiter at 866-715-8563 and they can send this letter directly to them. If you graduate on a Friday, you can be in Melton's on-the-job training program as soon as Monday with our convenient pre-hire process.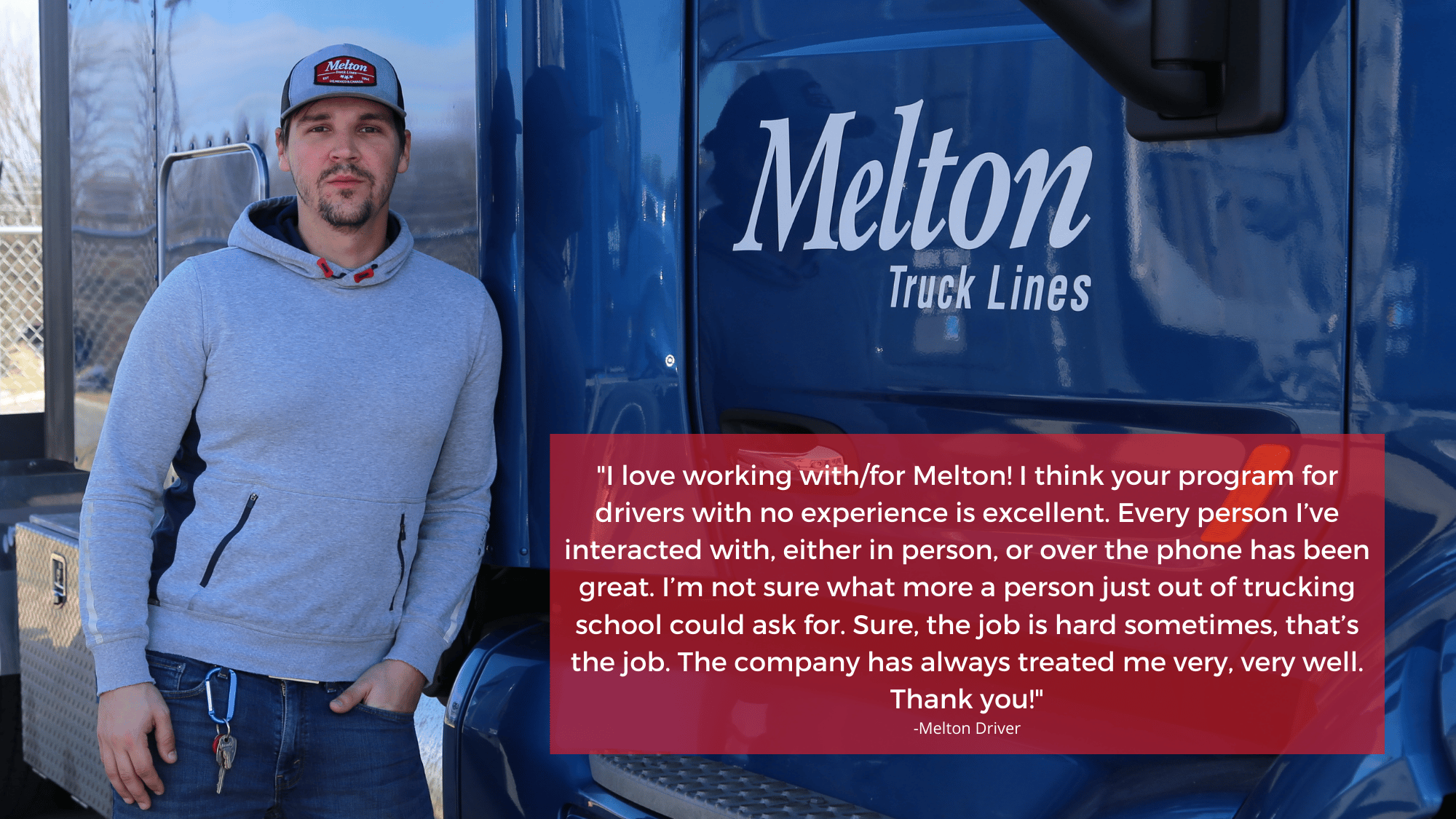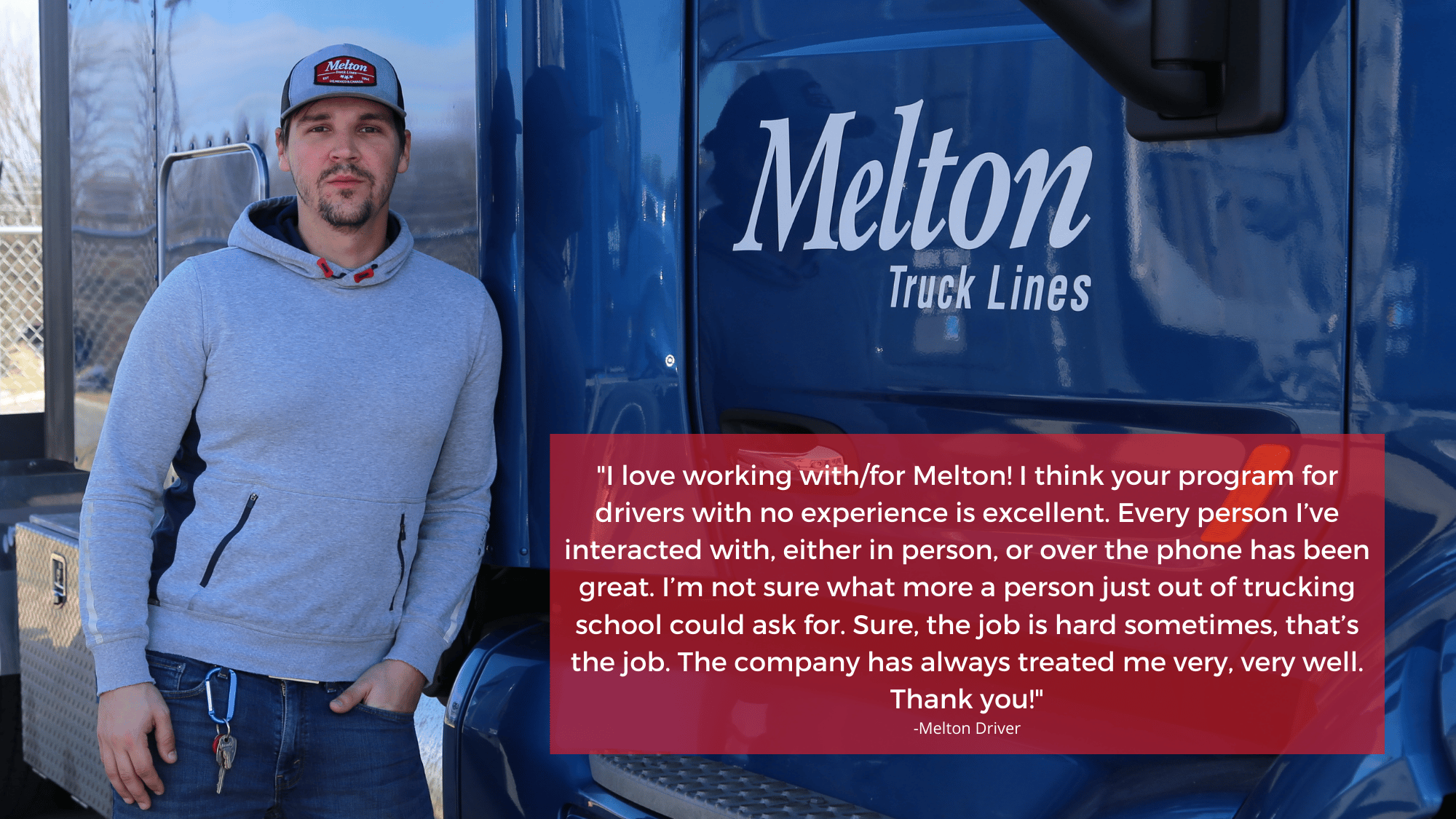 Customized On-the-Job Training Program
Most entry-level drivers will be a part of our 14-day on-the-job truck driver training, where we will cover our culture, safety standards, load securement, and tarping best practices. If you need any additional help during the class, we can provide additional one-on-one training. We want to give you the tools you need to be successful.
Nationally-Recognized Apprenticeship Program
Melton Truck Lines has had a nationally-recognized, Department of Labor and Veterans Affairs approved apprenticeship program since 2017. This program includes 14 days of on-the-job training with instructors who have immense background in transportation, including a former Melton driver with 2.5 Million Miles. During this training, you will have the opportunity to secure 20-30 different types of loads, which is more than you would see in 2 months of OTR driving. Furthermore, we provide extensive backing training so you will feel confident in backing our 53' flatbed trailers.
Road Trainers
All entry-level drivers will go out for approximately three weeks with a Road Trainer that is matched based on their personality. You will be paid a per-diem during this time, and once you are ready to get on your own truck, you will start receiving pay by mile.
After Training
Quality training doesn't end after your initial on the job training. The trucking industry is constantly changing, so we focus on communicating important information in a timely manner by print, email, online training, and social media to help make our drivers the best on the road. We are also available day and night to support and assist our drivers in any situation.
Need to practice for your Class A Driver's License test?
If you are getting ready to graduate from CDL school and need to practice for your final test, there are several great resources available to make sure you understand all the essential concepts of trucking.
$10,000
Tuition Reimbursement
$2,500
Driver Supplemental Pay