The Best Truck Stops in the US
After a long day of driving across the country, the one thing on a truck driver's mind is finding a place to rest. However, not all truck stops of America are created equal! Some could be as small as a convenience store, and others could be more akin to a mall with entertainment, full-service restaurants, shopping, and more. As an OTR driver, your breaks really count, so it's important to make the most of them. If you find yourself searching "truck stop near me" every time you're ready to settle, look no further! Here are some of the largest truck stop chains, as well as some famous trucker stops recommended by our OTR drivers that you should take the time to visit.
The Best Truck Stop Chains
This is the biggest chain of truck stops in the US. Combined, they have over 750 locations in 44 states as well as Canada. Since the two are owned by the same parent company, they operate in very similar ways. The main difference is that Flying J's truck stops tend to be larger and contain a sit-down restaurant (Denny's is popular), while Pilots have more of a quick service feel. However, one of our drivers mentioned that Pilot's PJ Fresh kitchen has some of the best freshly prepared on-the-go meals.
Love's has just over 600 locations in 41 states. They have all the standard amenities you'd expect from a truck stop, such as a convenience store, a quick-service restaurant, showers, and extensive truck services. They have also partnered with hotels in select locations if you're looking for somewhere to rest, other than your truck. According to some of our drivers, Love's is their favorite nationwide truck stop because of their food, coffee, clean showers, and parking for sleep. Melton has renewed their diamond status with Love's truck stop for 2023, which means free unlimited showers, extra reward points, free drink opportunities, and more!
TA/Petro have a combined 270 stops across the country, with plenty of unique restaurant chains serving comfort food across their locations. They also have their own concept restaurant, The Kitchen, in several of their locations. Other amenities include showers and truck care, as well as gyms and dedicated pet areas. According to some of our drivers, Petro is one of the best truck stops for parking and sleep, so keep your eyes peeled!
The Best Unique Truck Stops in the US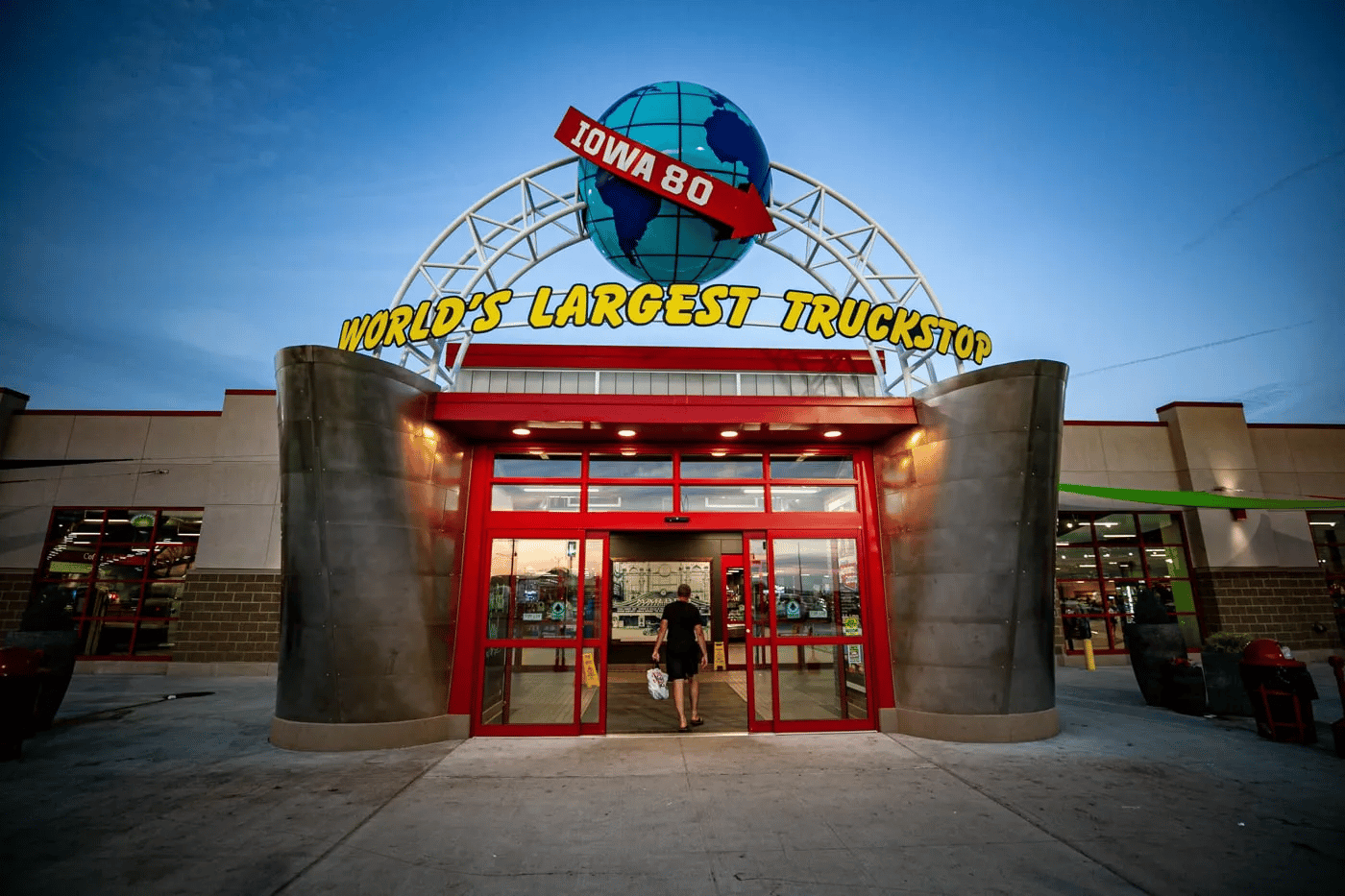 Iowa 80 is more commonly known as the world's largest truck stop, and the title is most definitely earned! This is a stop that deserves a detour if you're in the area. If you're hungry, you can stop by their Iowa 80 Kitchen that's open 24 hours a day or visit one of the other eight quick-service options in their food court. They also boast a huge truck accessory shop with chrome accessories galore, and essential parts for any type of truck you might be driving. If you're not convinced yet, some of their other amenities include their trucking museum, a barbershop, a chiropractor and dentist's office, a movie theater, a library, and more. If you're in the area in July, you might even be able to catch the annual Trucker's Jamboree that features live music, Trucker Olympics, and even a truck beauty contest! With their unlimited parking and pristine facility, Iowa 80 was said to be one of the best truck stops in America, according to drivers.

If you're looking for a good place to park for the night, how about a travel stop with some nightlife? The Jubitz Travel Center has the standard truck stop fare you've come to expect, such as a convenience store and a service center. However, they also have the Ponderosa Lounge and Grill, a venue with food, drinks, and nightly live music to dance to. Dancing skills not up to par? Don't worry! Jubitz offers dancing lessons to truckers for no cost! You can also enjoy their movie theater and their showroom with cool trucking memorabilia.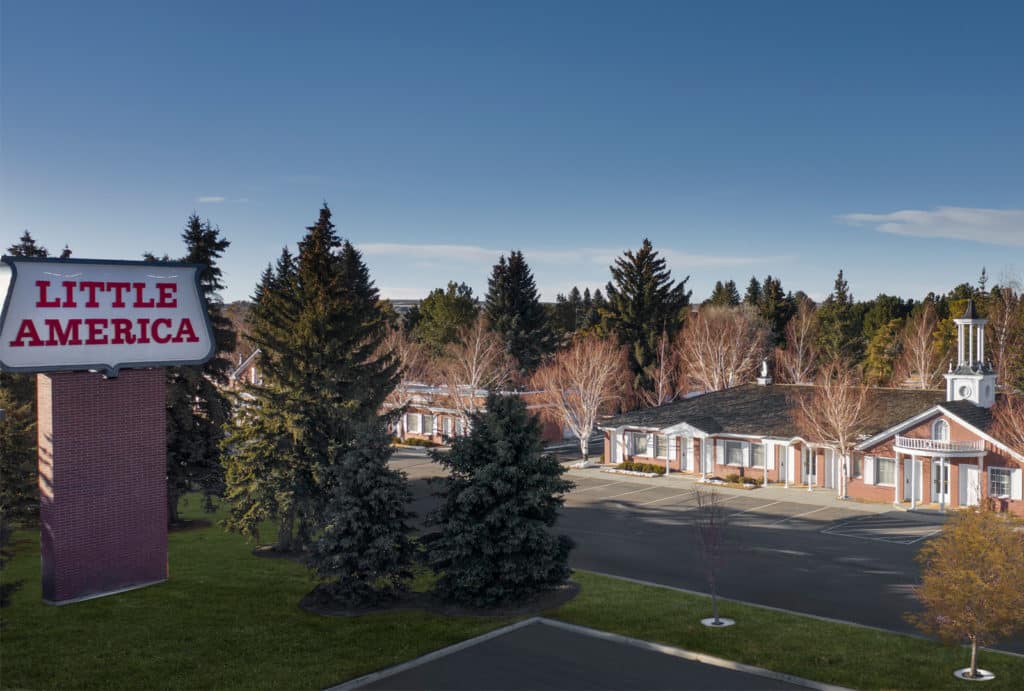 If you've got some time to kill while in Wyoming, check out one of the Little America Travel Center locations! The flagship travel in Little America, WY contains a grill and deli with their famous 75-cent ice cream cones, a playground for those with a young passenger, souvenirs, and a giant Sinclair dinosaur that makes for a great photo op! They also have an on-site hotel with pet friendly rooms, breakfast, and an outdoor pool.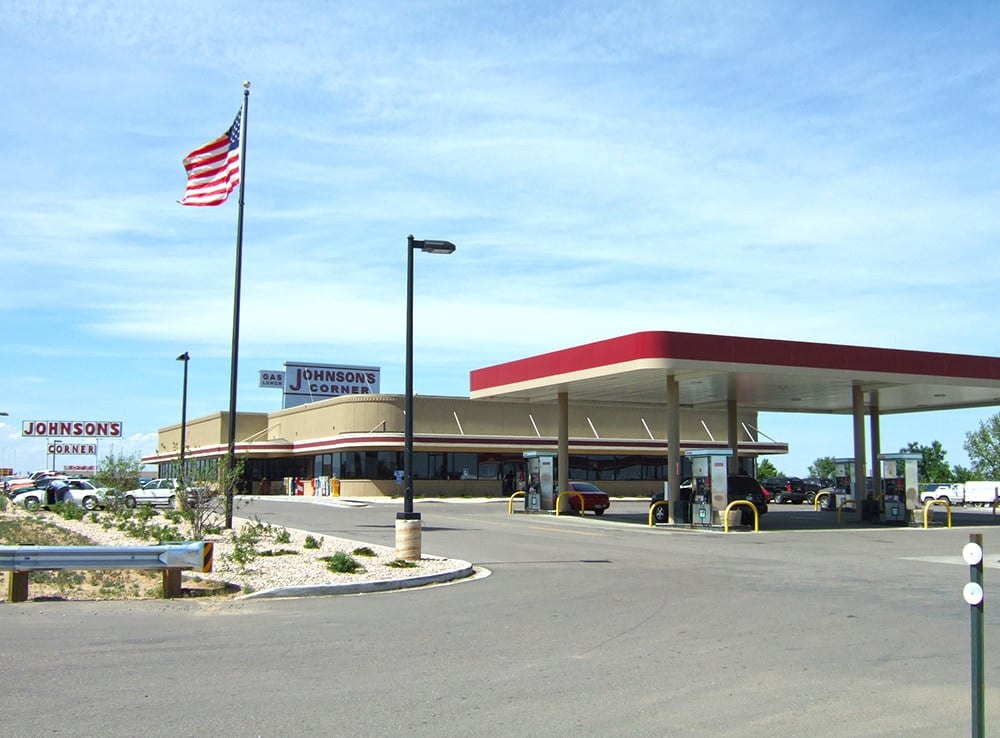 If you're looking for a historic truck stop with a homey feel, Johnson's Corner is the perfect place to stop in Colorado. They've partnered with Petro truck stop to provide all the amenities a driver could need, as well as a chapel and banquet room. However, the real draw is their restaurant – specifically, their huge cinnamon rolls! They have several rotating flavors available – currently, some interesting varieties include pumpkin, cranberry walnut, chocolate cherry, and key lime. If you've got an insatiable sweet tooth, Johnson's Corner is the stop for you.
Wherever you are in the US, one of these stops is most likely waiting for you! Even though trucking will take you throughout the entire country, finding the time to sightsee can be difficult sometimes – these destination truck stops are the perfect way to spice up a routine stop or kill some time between loads. At Melton, we know our drivers work hard and we want to ensure they're taken care of. That's why our headquarters in Tulsa, Oklahoma offers several amenities just like these for all our drivers, including a driver lounge, café, on-site clinic, gym, and more! Check out Melton's benefits here.