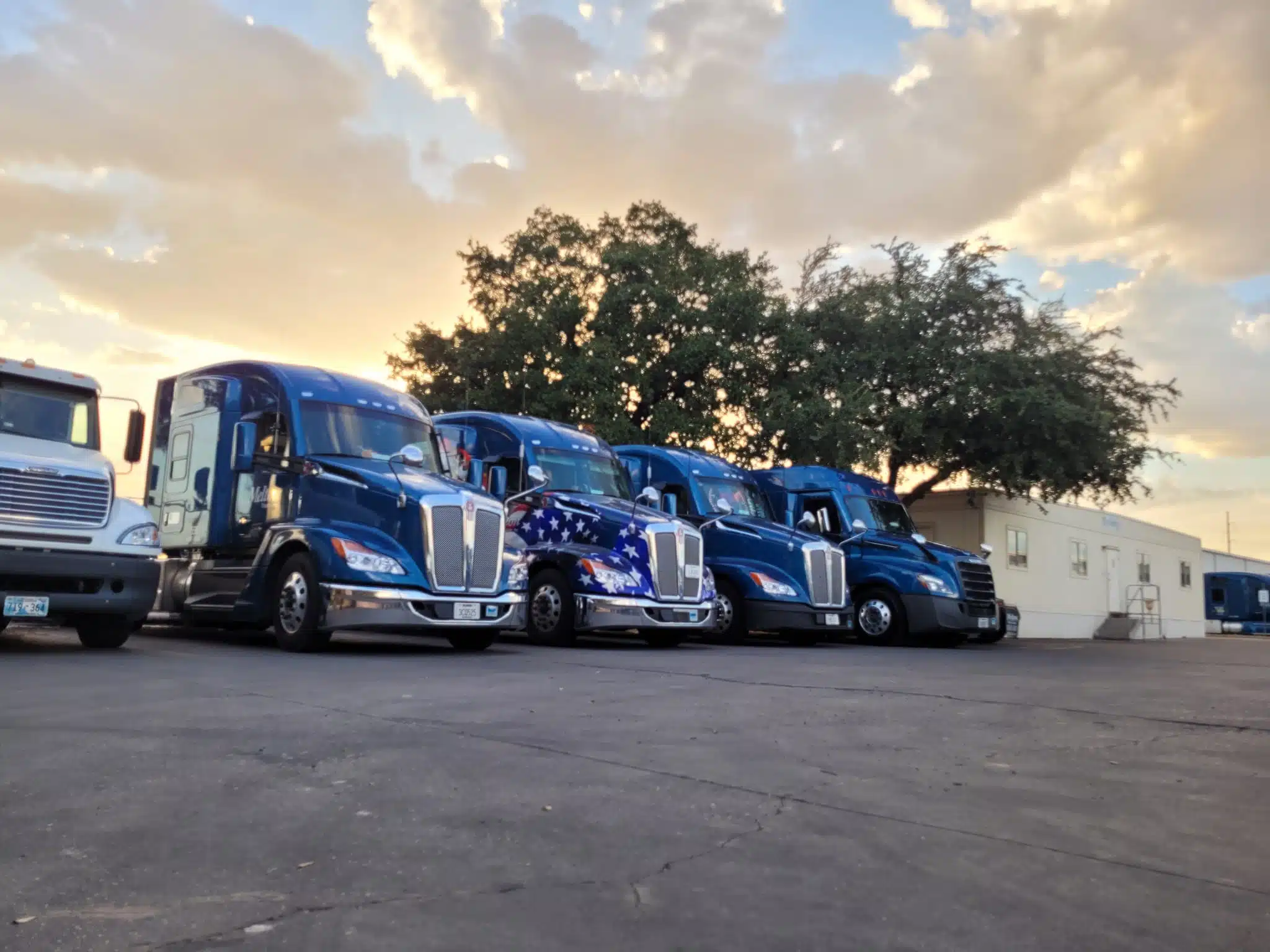 A Guide to CDL Training for Veterans
 Wondering how many truckers are veterans? Or what percentage of truckers are veterans? According to the Bureau of Transportation Statistics, over 10% of employed veterans are directly employed in the transportation industry as of November of 2020. This is a significantly larger percentage from the 6.2% of non-veteran transportation employees. But why are veterans so successful in this industry – more specifically, the trucking industry?
As a veteran, you know what it takes to adapt and succeed in various roles. You're also not afraid of working hard and putting effort into all the tasks a job requires. Melton is a veteran friendly employer with over 30% of employees having served in the military. we believe that veterans are invaluable members of the workforce, and we work hard to ensure we stay veteran-ready by providing all the resources necessary to aid in a smooth transition into the civilian workforce.
However, the transition from the rigid structure of the military into civilian life proves challenging for many. It can be overwhelming to figure out which career path is right for you, and then figuring out how to get there. In this blog, we're discussing why veterans should consider obtaining a CDL, as well as an interview from one of our top rookie drivers who served over 20 years in the armed forces.
Benefits of CDL Training for Veterans
Little Schooling – CDL training takes around 3-6 weeks depending on the school. Once you get your CDL certification, you're ready to start driving. Many companies like Melton don't require any prior experience, so if you graduate on a Friday, you can be scheduled for training as soon as Monday. Learn more about being a new CDL driver at Melton on our new drivers page.
Job Stability – There will always be a need for truck drivers, as they are the ones who deliver most, if not all essential materials we need/use every day. The shortage of truck drivers has been steadily increasing over the last few years, hitting a near record of 78,000 vacancies in 2022, according to the American Trucking Association. This figure is predicted to keep growing, and the U.S. is predicted to reach 160,000 drivers needed by 2031 . This is good news for anyone looking to get into trucking – layoffs are practically nonexistent, and companies competing for a limited workforce are offering higher pay, better benefits, sign-on bonuses, and more.
Non-Traditional Career – After spending years in the military, transitioning to a job behind a desk can seem like a dismal fate. However, truck driving is far from this nine-to-five lifestyle. You're able to travel the country every day while doing hands-on work. Plus, when traveling through states, you could connect with out-of-state family and friends you may have moved away from during your military career. Even better, as long as you're getting the load to its destination on time and you're communicating with your driver manager, you're free to make many of your own decisions about when to drive and how to get there.
Veteran Advantages – There are several programs that assist veterans during their transition into a trucking career.  These programs include advantages like tuition assistance, housing allowances, on-the-job training, and more. With Melton's CDL training for veterans, former military members have the opportunity to use their GI Bill® benefits while enrolled in our on-the-job flatbed training program. Melton also works with veteran organizations such as Troops into Transportation, a program that makes it easier for veterans to get started with CDL training and get hired faster by companies who value the experience and work ethic of veterans.
Interview with a Veteran Driver
We reached out to veteran truck driver Ash S. to discuss his journey with Melton. Ash served over 20 years in the U.S. Marine Corps before retiring and completing our pre-employment evaluation in November of 2022. Since then, he has risen to become one of our top performing drivers and received our Rookie of the Month award this past February.
How has Melton supported you as a veteran?
I requested to have a veteran as a trainer and got one, which really helped with the training process because we got along well. They also had the apprenticeship program, so I took advantage of that through the VA. I've been doing very well in the company – it's a great fit for me because I'm used to having a specific regimen and lifestyle working with strict timeframes and such. I couldn't have done a nine-to-five job, so being able to master the details of trucking has been the key to being a very efficient trucker, and it tends to make more money.
What skills from your time in the military do you also use in trucking?
If you ask any Marine, they'll tell you that it's important to be resourceful. We can survive with very little. I can be fine without running my truck no matter the temperature. I figured out ways to keep the truck cool and warm without idling, which kept my MPGs down and earned me my first fuel bonus after just six months. It pays for itself. Time management is also very important – we're taught time management from day one in the military, and every minute is accounted for. That's really helped me skyrocket in the company, I think; I told my trainer I was going to excel, but even he was blown away!
I also found that the people skills really came in handy. My first deployment to Iraq, I met people from all over the country. Because I have experience meeting and connecting with people from all over, it's easy for me to travel the country and get along with all kinds of people.
Tell us more about your experience with your trainer.
I first got to my trainer's truck around 1 AM, and his first question to me was "Do you want to go to sleep, or do you want to work?" I knew he was prior military, and he knew I was as well, so we got right to work and strapped and tarped a load, in the middle of the night, in 30-degree weather. We drove for a few hours after that and did something called a split sleeper berth, so we could take a nap and then finish the rest of the run. Most beginner truckers get taught things like that in class, but being able to have a real-world experience with it really helped.
He also asked me right away what my expectations were and how much help I needed with things. I just wanted him to take a hands-off approach and watch to correct me if I'm doing anything incorrectly. I learned quickly, and I only spent 13 days on his truck instead of the full three weeks.
What was Troops into Transportation like? How did it help you?
In the military, I spent my time as an A/C mechanic. I was certified in it and even taught it to others, but it was something that got picked for me and I didn't really enjoy it. I have a cousin and an uncle who were truckers and I've watched them over the years, and I'd seen a few movies about trucking. I figured truck driving would provide a steady income for my family and Troops into Transportation really helped. I could use my GI Bill for CDL training, and if I wanted to, I could go back and retake the course or get a passenger endorsement. My biggest piece of advice –   If you're active military, start thinking about CDL training and get it set up as far in advance as you can.
What advice would you give to a veteran considering a career in trucking?
No matter what you do in life, there's going to be ups and downs. I recommend looking for the good things – I've been able to see all but 3 states in the U.S. in just the past 6 months, and I'm going to have stories to tell my kids and grandkids for years to come. Most veterans are not afraid of hard work, which is why there seems to be a higher percentage of veterans in flatbed versus other types of trucking. Whatever you decide, flatbed trucking or otherwise, just make sure you enjoy it. You won't stick to something you don't enjoy.
If you're looking for an interesting and rewarding career as a veteran, truck driving may just be a perfect fit. The skills used every day by military personnel are just as applicable in transportation, and Melton is proud to be one of the top veteran employers in the industry. Melton receives continued recognition from multiple veteran organizations including The Military Times Best For Vets: Employers Award.  If you want to learn more about our apprenticeship program for veterans, or how some qualified veterans can start at an extra 6 CPM, see why Melton is one of the most military-friendly trucking companies.